TOP
New Year's Eve Party - Welcome 2018
New Year's Eve Party - Welcome 2018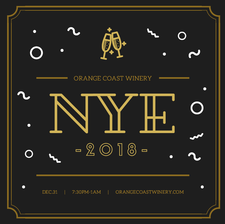 New Years 2018!
Please Join Us As We Ring In The New Year
Here At Orange Coast Winery.
A Night To Remember ~ Wine, Food, And, Entertainment!
A complimentary welcome glass of wine and midnight bubbly toast!
Special NYE Discounts On Wines By The Glass Or Bottle.
Dinner to Kick-Off the evening and Hors-d'oeuvres during the night.
Beautiful Ballads And Acoustic Guitar By Our Own Cierra Behlmer and Kyle Schutts!
Trivia Contest!
Raffles With Prizes.