TOP
UPCOMING EVENTS AT OCW
---
OCW's Annual Hallowine Extravaganza 2018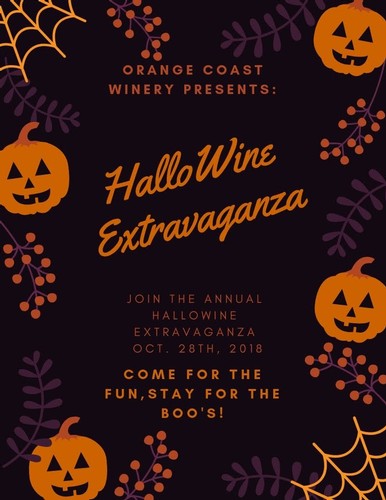 Join Orange Coast Winery for our annual Hallowine Extravaganza which will be taking place the evening of Sunday October 28th at 5:30 pm.
Festivities will include a costume contest, games, and of course plenty of Boo's!
We are excited to display a variety of black and white films such as The Cabinet of Dr. Caligari, Carnival of Souls, Night of the Living Dead, and much more.
For our creative and artistic spirits; bring in your finest carved pumpkin for a chance to win an OCW Voucher.
A mysterious blend of Sangria will be featured for all who dare to taste!
No Tickets, No RSVP Needed. Just Show Up!
---

---

Standard Packages:
Simply Wine: $15/person
6, 1 oz tastings
20% off all food
---
Classic Wine & Cheese: $25/person:
6, 1oz tastings
Gourmet Cheese Board
20% off all additional food
---
Select Wine & More: $35/person
6, 1oz tastings
Choice of Gourmet Cheese Board, Custom Flatbreads or Custom Paninis
20% off all additional food
---
***Custom packages for groups 10-75 also available.***
---


---
*Groupons are happily accepted during all tasting room hours.
Reservations are not accepted.
Groups are encouraged to arrive upon opening for the best chance to find an appropriate space together.
---
Tasting Room Hours of Operation
Monday-Friday: 5:00 p.m. to 9:00 p.m.
Saturday: Noon to 9:00 p.m.
Sunday: Noon to 8:00 p.m.
CONTACT US:
(949) 645-0400