These Past Virtual Events
May be viewed on our Facebook Page.
---
---
Virtual Wine Tasting

of our

2017 Petite Sirah

Saturday, October 10th

5 pm

Facebook and YouTube Livestream
---

Virtual Wine Tasting
Saturday, September 26th, at 5 pm
Facebook and YouTube Livestream
Have you been inside too long? Are movie nights losing their magic? Are you making salt and butter popcorn out of the microwave everytime? NOT ANYMORE!
For this fun and delicious Virtual Tasting, we will explore some unique popcorn recipes to pair with some of your favorite Bubblies including Orange Bubbly, Peach Mango Bubbly and Piña Colada Bubbly. These popcorn and Bubbly pairings are guaranteed to knock you out of your routine and reignite those living-room-couch date nights!
Order a Bubbly and more today to request your copy of the popcorn recipes!
---

Big Wave Virtual Wine Tasting
Saturday, September 12th, at 5 pm
Facebook Livestream
---
Virtual Happy Hour
Saturday, August 29th at 5:00 PM
This evening you can find David (the Wine Sage) and Peter (the Bossman) on Facebook live at 5:00 PM! This will be a relaxed livestream, a happy hour if you will! Dicussion topics include:
What's up at OCW?
Wine Education Minute
Surprise wine tasting
Live Chat - Q&A
So tune in and have some wine with us, and feel free to join in and chat as well!
---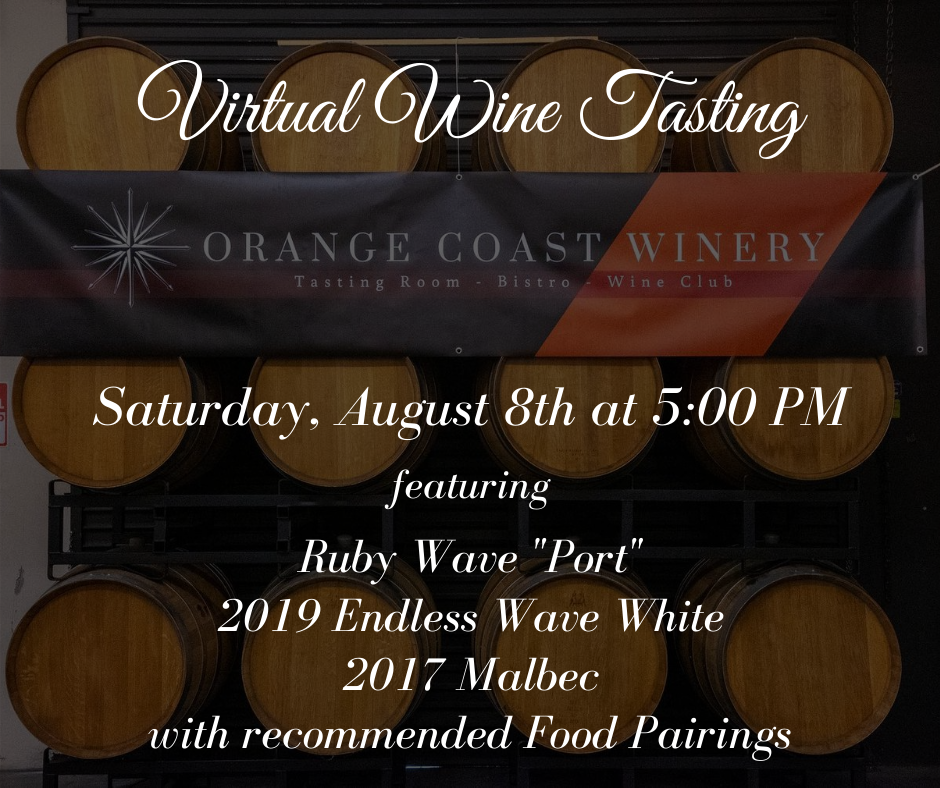 ---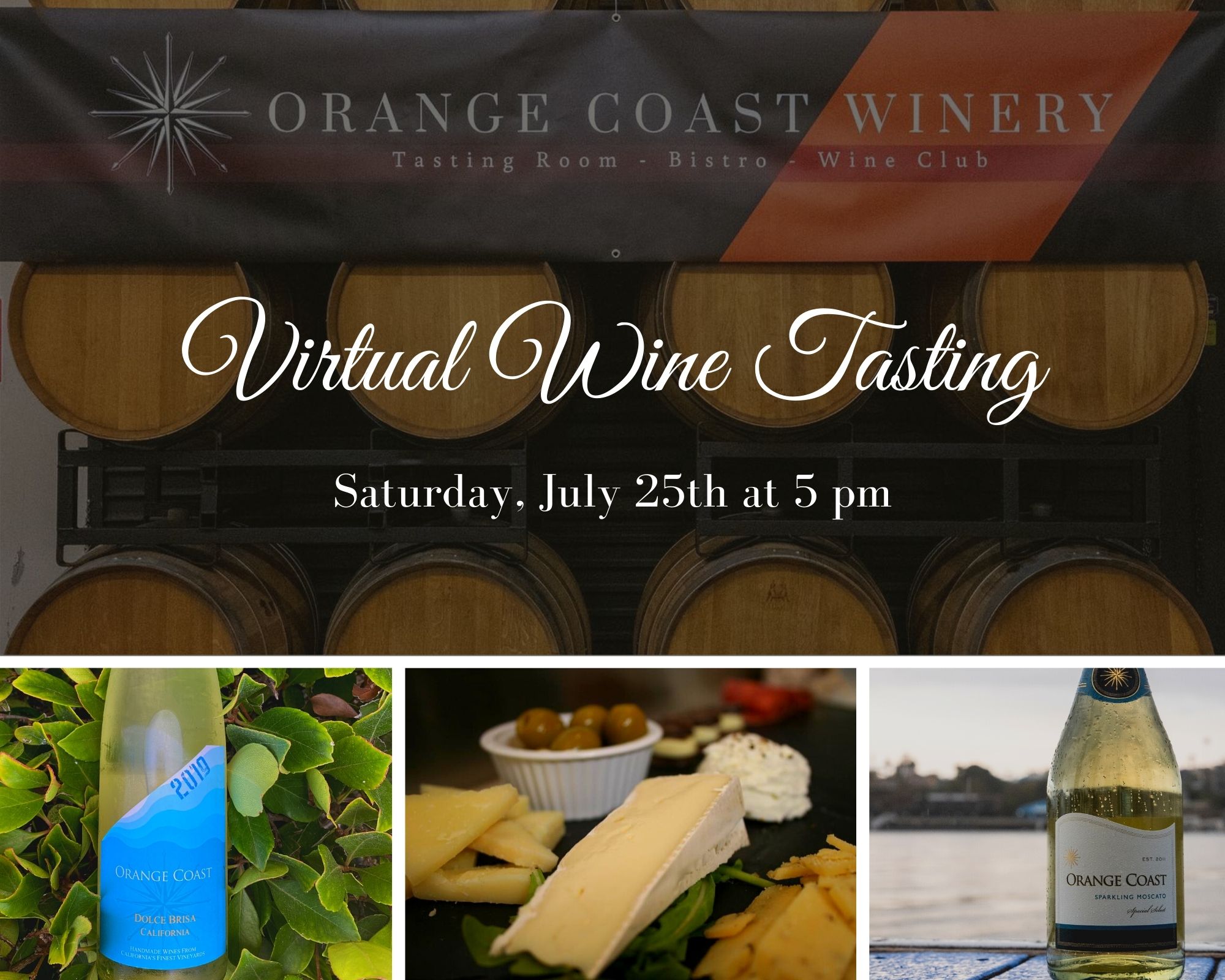 In Search of the
Perfect Dessert Pairing
Featuring our
2019 Dolce Brisa & Sparkling Moscato!
Join our
Bossy Bistro Babe - Cierra
& our
Wine Wizard - David
as they pair items, such as brie, walnuts, honey, etc., from our Bistro with these amazing wines.
---
Virtual Tasting
of two new wines releasing in July
Chardonnay & our Dry Rosé
We'll also do a side by side tasting of all 3 of our Rosé wines.
Saturday, July 11th, 5:00 PM
Facebook Livestream
---
Virtual Concert
3 Mile Radius!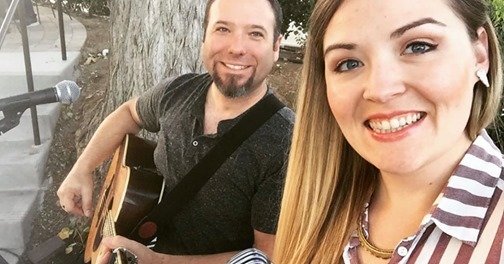 Saturday, June 27th, 5:00 PM
---
Virtual Wine Tasting
2019 Endless Wave Pink
2017 Primitivo
Smooth Rider
Saturday, June 13th at 5 pm
---
3 Mile Radius
Virtual Concert
Saturday, June 6th, 5:00 PM
Facebook Livestream
---
View our Virtual Wine Tasting of our Overachiever Package on our Facebook page.
Albariño 2019
Rosé of Malbec 2019
Malbec 2017
Sparkling Moscato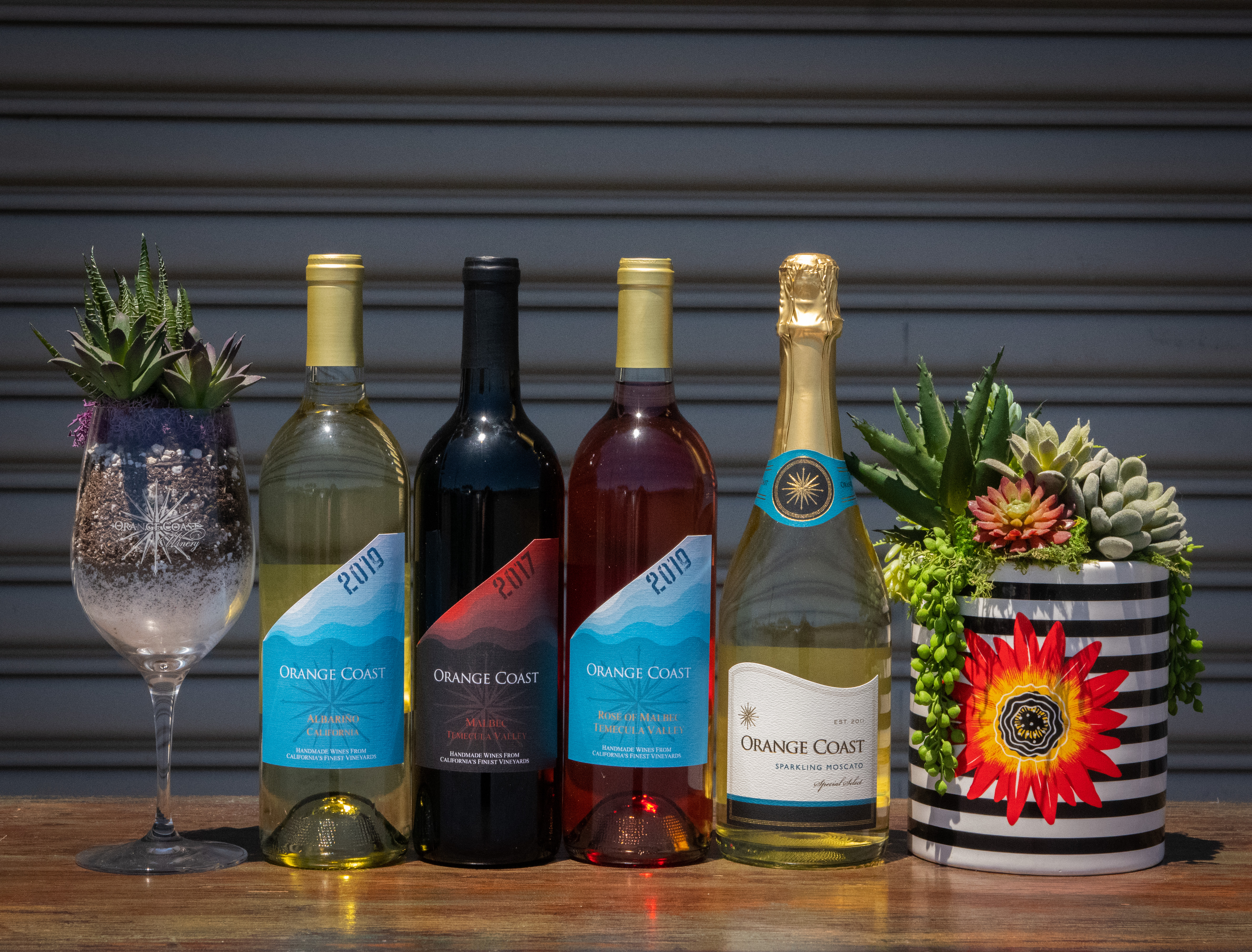 ---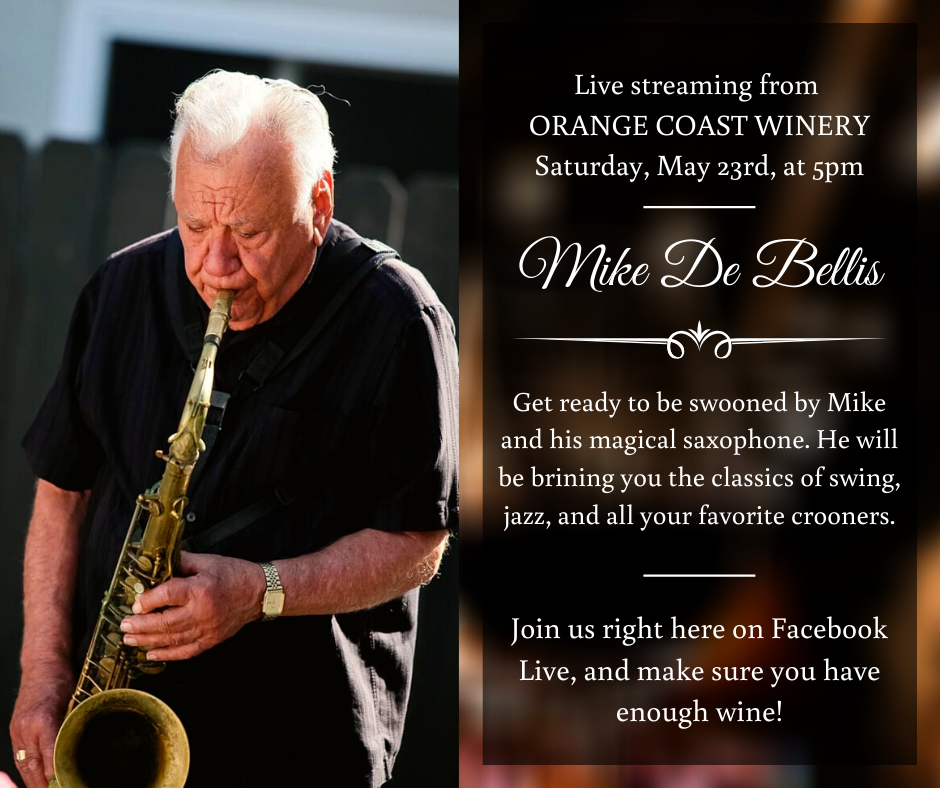 ---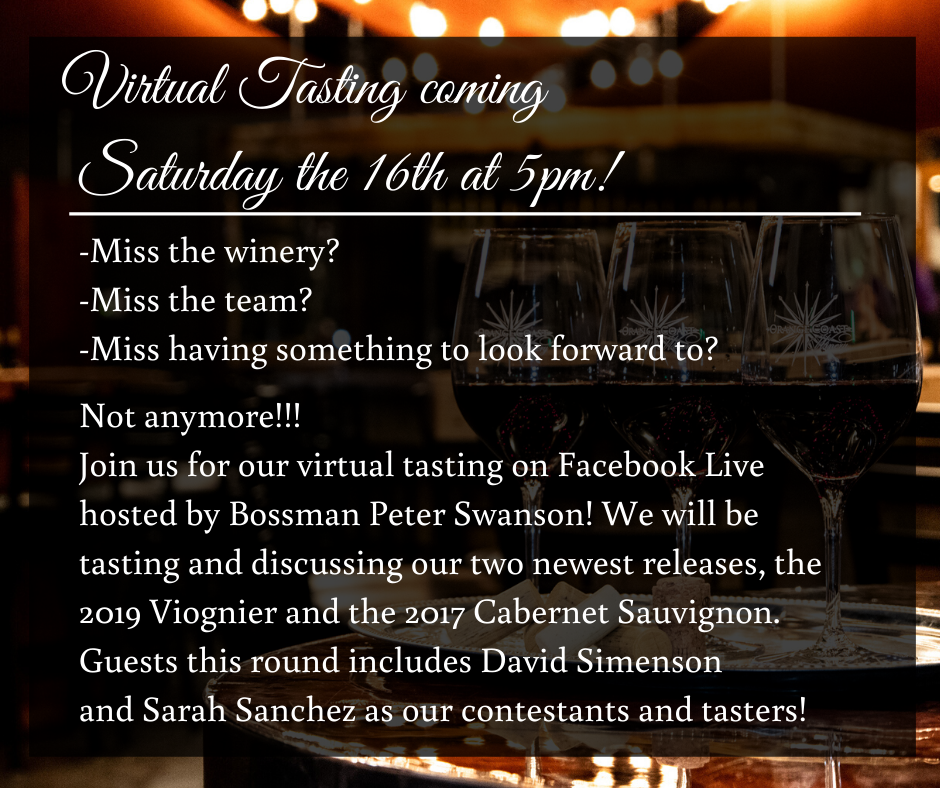 ---

How to join our Facebook Livestream:
Follow us on Facebook
If you want to be reminded AHEAD OF TIME of the event, go to our "Livestream Post," pinned to the top of our page
Click the little button with a star on it that says, "Get Reminder." Facebook will then give you a notification prior to our livestream.
If you are tuning in the day of, just head to our Facebook page, where you will see our stream going live on the top of the page.
Simply click on that post to join!
Feel free to comment and ask questions, we will receive them in real time, read them aloud and answer them for you!
This shows where to select "Get Reminder" on our Facebook page: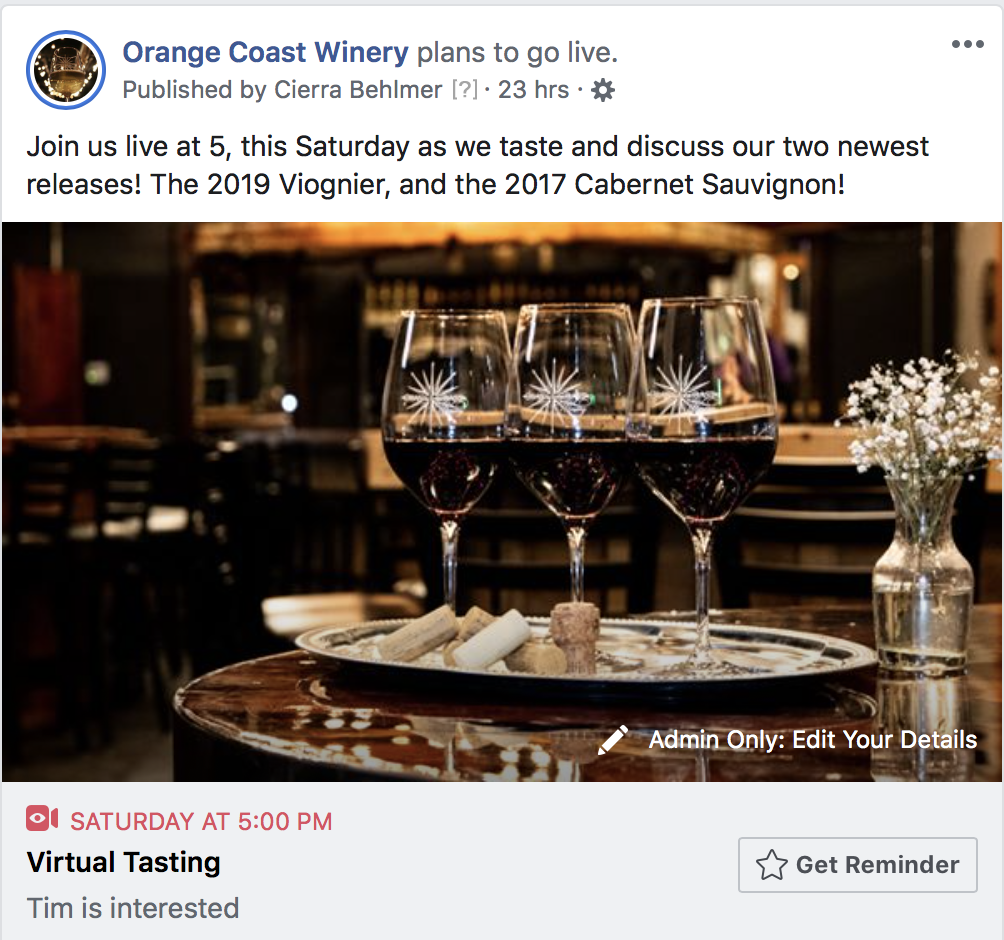 ---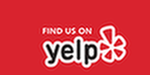 Orange Coast Winery | 869 W 16th St, Newport Beach, CA 92663
+1 (949) 645-0400
Hours: Wednesday - Saturday, noon - 6:00 pm