Dolce Brisa - 2018
Bottle:$29.99 / Glass $10
Canary yellow with aromas of pear and honey. Soft palate of white peach, pear and mango with a light chamomile finish.
Pair with Kung Pow Chicken, Asian Pear Salad, Mango Sorbet or OCW's Honey Butter
Composition: 100% Muscat Canelli [10.5% ABV]
---
Endless Wave Rose - 2017
Bottle: $29.99 / Glass: $10
Pale pink in color as a result of light skin contact during fermentation. The nose consists of raspberry, basil and lemon. While the palate consists of tart strawberry, light green apple, watermelon and lime.
Pair with a mixed green salad with fresh fruits and a strawberry vinairgrette, grilled fish tacos with mango salsa or OCW's Turkey & Brie Baguette.
Composition: 99% Zinfandel / 1% Barbera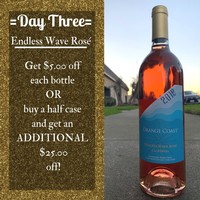 ---
Endless Wave Red Blend - 2017
Bottle:$44.99 / Glass: $12
Aromas of carmel, plum and dried leaves. A velvety palate of cinnamon, nutmeg, plum, sandlewood, tobacco and leather.
Pairs with Roasted Turkey, Fried Chicken or OCW's Turkey Dinner Flatbread
Composition: 53% Temparnillo / 43% Petite Sirah [13.6 ABV]