OCW's Tasting Menu:
$20 / 6 tastings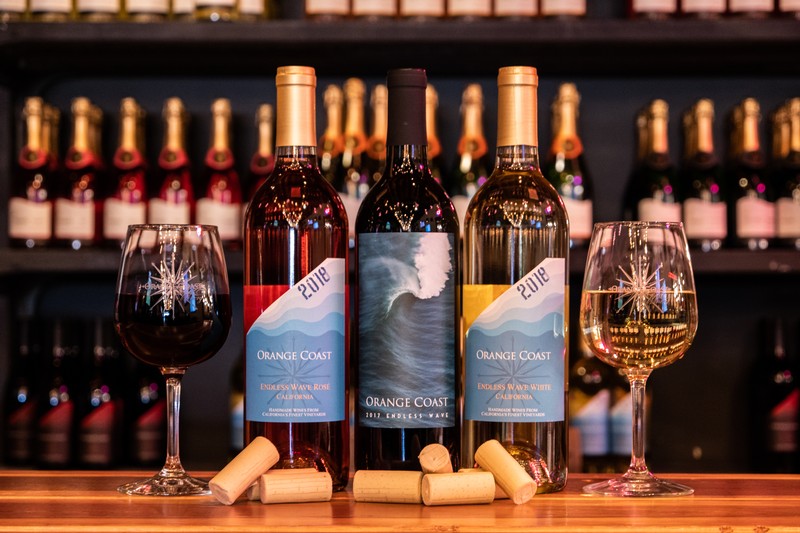 ---
---
Sparkling Wines:
Grand Crú – Bottle: $30.99 / Glass: $10
Crisp, refreshing filled with bubbles and fun. Pear and pineapple nuances leap out of this sparkling wine with lively flavors of crisp green apple, finishing with some toasted Coconut.
Brut Rosé – Bottle: $30.99 / Glass: $10
A nice light and delicate sparkling rosé. Notes of tart strawberry are abundant throughout this wine, accompanied by notes of watermelon and cherry. It is a perfect way to start any occasion
Orange Bubbly – Bottle: $30.99 / Glass: $10
Like having a perfect mimosa pre-packaged in a bottle. This lovely orange flavored wine is the perfect addition to any brunch.
Pomegranate Bubbly – Bottle: $30.99 / Glass: $10
Fresh and enticing with a vibrant garnet color. Distinctive aromas of juicy pomegranates, pippin apples and red currents are followed by a hint of spicy vanilla. On the palate, the Sparkling Pomegranate bursts with sophisticated flavors ranging from pomegranate juice, red raspberries to green apple candy followed by a delightful, lingering finish.
Peach Mango Bubbly – Bottle: $30.99 / Glass: $10
Beautiful orange hue that is accentuated by tiny bubbles. Inviting aromas of succulent peach & sweet mango entwine beautifully with hints of guava leaving a sweet lingering finish on the palate. Deliciously fruity with a nice, natural tangy finish.
Sparkling Moscato – Bottle: $30.99 / Glass: $10
This delightfully sweet sparkling wine has floral aromas with flavors of peach, apricot, and melon. This wine is best served chilled and can be used as either a wine before dinner or for dessert.
---
---
White Wines:
Albariño – 2018 - Bottle: $30.99 / Glass: $10
Pale yellow with aromas of fresh leaves and apricot. A high acid palate of orange zest, pear, and lime with a honey suckle finish. Pair with Miso Soup, Pan Seared Scallops, and OCW Cheese Board with the Goat Cheese and the Cranberry Macadamia Nut Cheese.
Composition: 100% Elk Grove Albariño [12.5% ABV]
White Blend – 2018 - Bottle: $29.99 / Glass: $10
Straw yellow with aromas of pear and lemon. A light palate of melon, green apple, and grapefruit with a finish that lasts. Pair with Lemon Chicken, Salad with Fresh Fruit and Raspberry Vinaigrette, and OCW Mediterranean Flatbread.
Composition: 59% Albarino / 41% Muscat Canelli [12% ABV]
---
---
Rosé Wines:
Endless Wave Rose - 2017 - Bottle: $29.99 / Glass: $10
Pale pink in color as a result of light skin contact during fermentation. The nose consists of raspberry, basil and lemon. While the palate consists of tart strawberry, light green apple, watermelon and lime.
Pair with a mixed green salad with fresh fruits and a strawberry vinairgrette, grilled fish tacos with mango salsa or OCW's Turkey & Brie Baguette.
Composition: 99% Zinfandel / 1% Barbera
---
---
Red Wines:
Endless Wave Red Blend - 2017 - Bottle: $44.99 / Glass: $12
Aromas of carmel, plum and dried leaves. A velvety palate of cinnamon, nutmeg, plum, sandlewood, tobacco and leather.
Pairs with Roasted Turkey, Fried Chicken or OCW's Turkey Dinner Flatbread
Composition: 53% Temparnillo / 43% Petite Sirah [13.6 ABV]
Sangiovese – 2016 - Bottle: $49.99 / Glass: $12
Medium dark red center with a pale crimson rim. Aromas of unripe strawberry and cranberry, and a lasting palate of velvety tannins, vanilla, raspberry, plum skin, and a subtle hint of blueberry.
Pairs with Prosciutto and Burrata topped with Balsamic Vinegar, Pasta Marinara, and OCW Classic Americano Flatbread.
Composition: 83% Sangiovese / 13% Petite Sirah / 3% Zinfandel / <1% Cabernet and Primitivo [14.4% ABV]
Zinfandel – 2016 - Bottle: $54.99 / Glass: $12
Aromas of dark chocolate, tobacco, and coffee with a palate that consists of black cherry, black current, red licorice, and an earthy black pepper finish.
Pairs well with Spaghetti and Meatballs, Bacon Barbecue Cheeseburger, and OCW Italian Soppressata Flatbread.
Composition: 100% Lodi Zinfandel [16.2% ABV]
---
---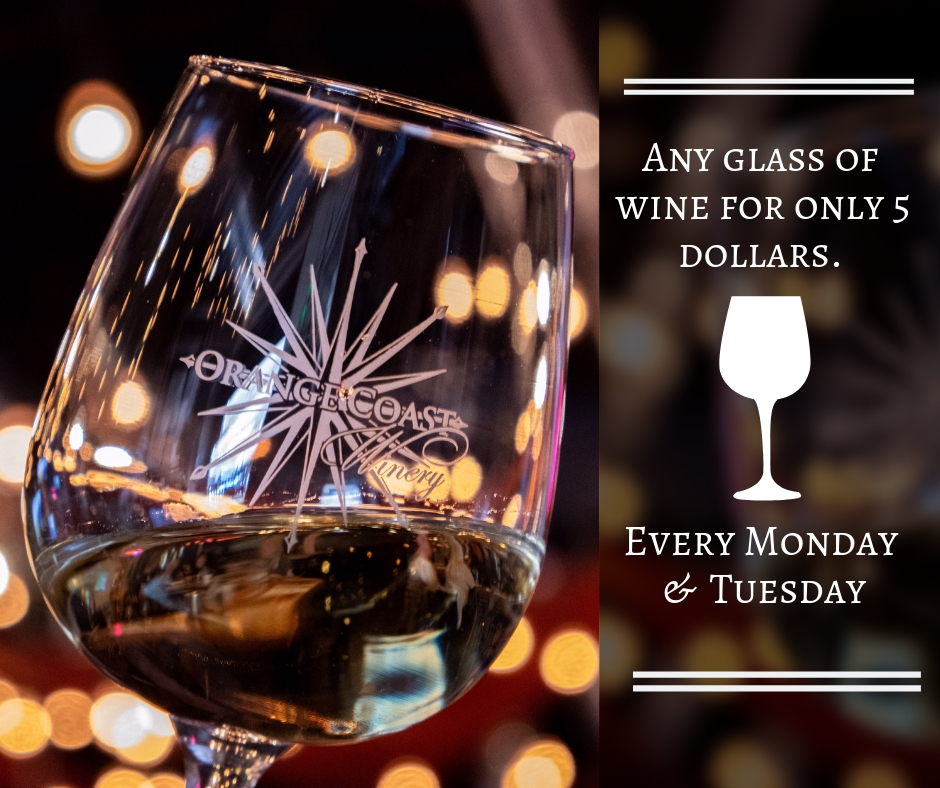 ---
---
#CATCHTHEWINEWAVE
@THEORANGECOASTWINERY
---
*Groupons are happily accepted during all tasting room hours.
Reservations are not accepted.
Groups are encouraged to arrive upon opening for the best chance to find an appropriate space together.
---
---
Tasting Room Hours of Operation
Monday-Friday: 5:00 p.m. to 9:00 p.m.
Saturday: Noon to 9:00 p.m.
Sunday: Noon to 8:00 p.m.
CONTACT US:
(949) 645-0400