OCW's Wine Menu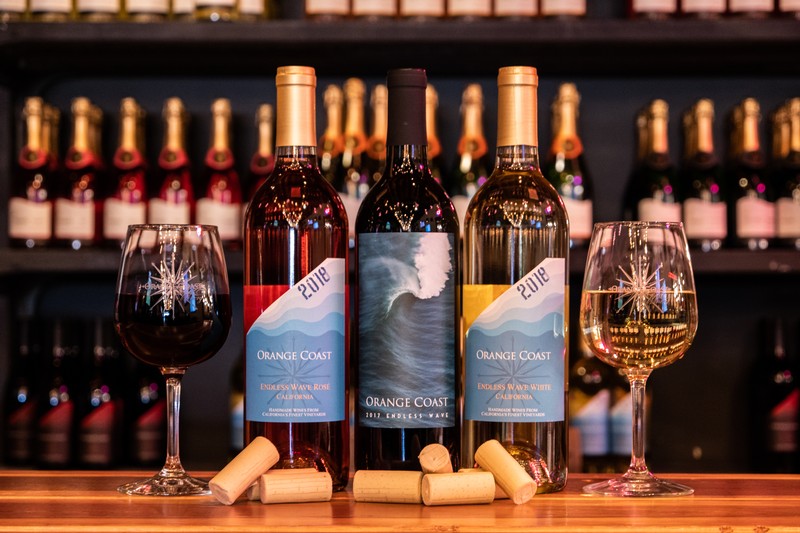 ---
New Special Holiday Pricing!
Through January 31st
Now is a great time to stock up on Orange Coast Winery Wines!
Please note all membership & quantity discounts are included in each categories' prices.
---
Sparkling Wines - $20
Brut Rosé
A nice light and delicate sparkling rosé. Notes of tart strawberry are abundant throughout this wine, accompanied by notes of watermelon and cherry. It is a perfect way to start any occasion.
Grand Crú
Crisp, refreshing filled with bubbles and fun. Pear and pineapple nuances leap out of this sparkling wine with lively flavors of crisp green apple, finishing with some toasted Coconut.
Orange Bubbly
Like having a perfect mimosa pre-packaged in a bottle. This lovely orange flavored wine is the perfect addition to any brunch.
Peach Mango Bubbly
Inviting aromas of succulent peach & sweet mango entwine beautifully with hints of guava leaving a sweet lingering finish on the palate. Deliciously fruity with a nice, natural tangy finish.
Piña Colada Bubbly
Piña Colada Bubbly is a delicious taste of paradise. It has inviting fruity aromas with a mouthwatering pineapple flavor combining with a light taste of delectable coconut. Pineapple & coconut flavors combine beautifully to bring a lightly sweetened tropical taste.
Raspberry Bubbly
Fresh aromas of ripe raspberries mingled with notes of sweet red cherries and white peaches. Pleasantly fruity, with a nice, natural tangy finish.
---
White & Rosé Wines - $25
Albariño 2019
Citrus - Stone Fruit- Honeysuckle
Composition: 96% Elk Grove Albariño,
2% Pinot Grigio, 2% Viognier [12.5% ABV]
Chardonnay 2019
Lemon Peel - Melon - Grassy
Composition: 100% Chardonnay [12.6% ABV]
Dolce Brisa 2019
Honey - Lychee - Melon
Composition: 78% Muscat, 21% Pinot Grigio [11.0% ABV]
Pinot Grigio 2019
Green Apple - Citrus - Lemongrass
Composition: 100% Pinot Grigio [11.5% ABV]
Pear - Apple - Lemon Zest
Composition: 94% Viognier, 6% Pinot Grigio [11.5% ABV]
Dry Rosé 2019
Nectarine - Strawberry Cream - Elderflower
Composition: 84.0% Zinfandel, 16.0% Barbera [12% ABV]
Ripe Strawberry - Pink Grapefruit - Lemon
Composition: 60.9 Zinfandel, 18.9 Chardonnay, 11.6 Barbera,
7.7% Malbec, .9% Cabernet Sauvignon [12.0% ABV]
---
Red Wines - $45
Blackberry - Black Currant - Bramble
Composition: 100% Petite Sirah [14.3% ABV]
Blackberry - Cloves - Cacao (Dark Chocolate)
Composition: 83.9% Primitivo, 16.1% Zinfandel [13.8% ABV]
Baking Spices - Jammy Black Fruits - Dried Cherries
Composition: 75.2% Zinfandel, 24.8% Cabernet Sauvignon [14.9% ABV]
---
Reserve Wines - $55
MV - Wines are produced from Monfort Vineyards' grapes.
Blackberry - Oak - Vanilla - Black Cherry
Composition: 42.18% Cabernet Sauvignon, 38.85% Merlot,
14.18% Cabernet Franc, 4.33% Malbec [14.1% ABV]
Cedar - Black Currant - Plum Skin
Composition: 100% Merlot [15% ABV]
Tart Cherry - Earl Grey - Pomegranate
Composition: 86.4% Cabernet Sauvignon, 13.6% Malbec [14.3% ABV]
Maple - Mixed Berries - Dark Chocolate
Composition: 97.4% Malbec, 2.6% Cabernet Sauvignon [12.8% ABV]
Red Cherry - Cranberry - Coffee
Composition: 100% Zinfandel [14.9% ABV]
---
Dessert Wines - $20
Black Currant - Cranberry - Dates - Brown Sugar
Composition: 76% Zinfandel, 8% Petite Sirah, 8% Grenache,
4% Syrah, and less than 1% each Primitivo, Cabernet Sauvignon,
Cabernet Franc, Barbera, Merlot, Malbec, Pinot Noir
and Tempranillo [ABV 18%]
Sparkling Moscato
This delightfully sweet sparkling wine has floral aromas with flavors of peach, apricot, and melon. This wine is best served chilled and can be used as either a wine before dinner or for dessert.
---
Tasting Room Hours of Operation
Monday-Friday: 5:00 p.m. to 9:00 p.m.
Saturday: Noon to 9:00 p.m.
Sunday: Noon to 8:00 p.m.
CONTACT US:
(949) 645-0400