August 16, 2017 | Douglas Wiens
Some Essential Wines Defined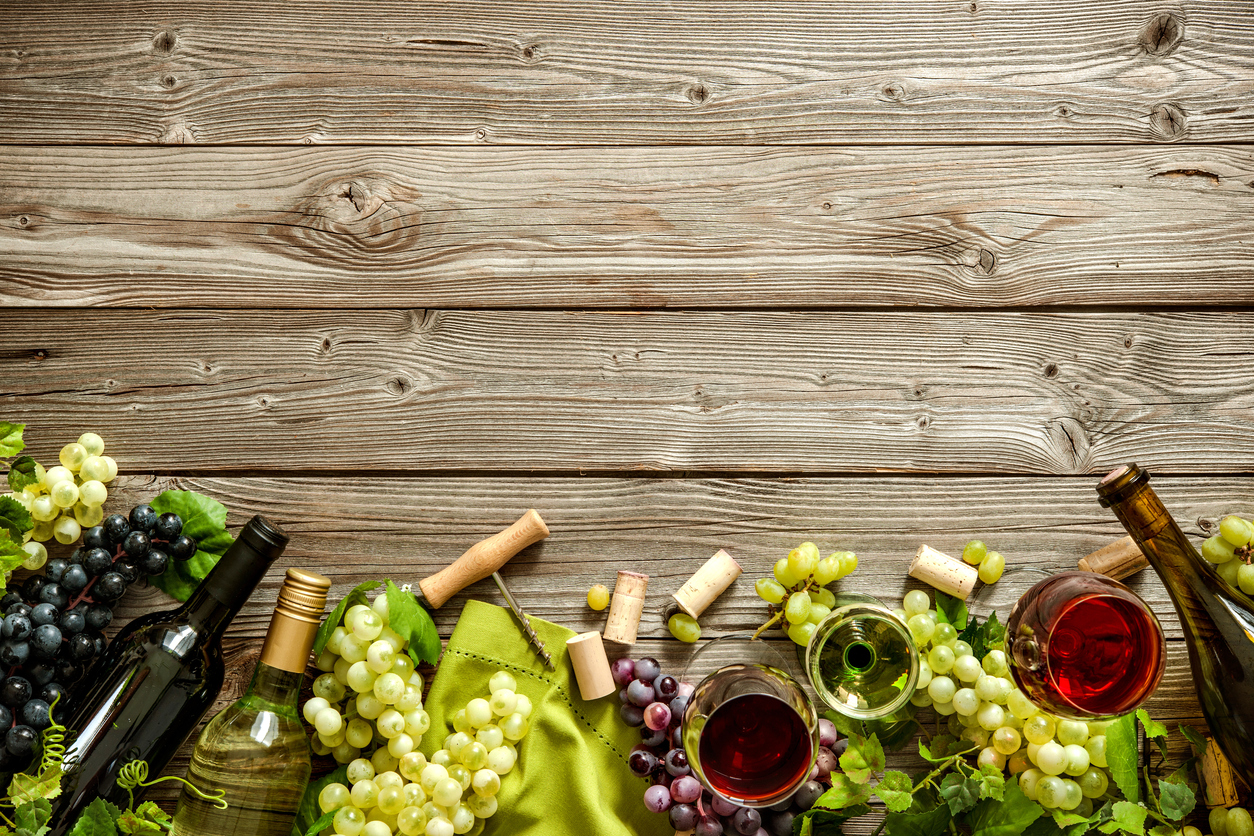 Orange Coast Winery looks at a few of the stalwarts in a crowded field
As the saying goes, there's no accounting for taste. Every vineyard will make a case that their wine is the finest. There are more than 10,000 varieties of wine grapes grown across the world, and when it comes to wine and its consumers, there are as many different favorites as there are labels.
Before highlighting some essential types of wine, it's necessary to return to the basics. Wine may fall under five primary categories: red, white, sparkling, rose, and dessert. Classifications then branch off into dry and sweet wines, and flavors deepen even further based upon qualities like acidity and tannin (bitterness). For now, let's stick to the five basic types and list a few wines that can rightly be called indispensable.
The Reds
Merlot
Taking its name from the French for "blackbird," Merlot is a rich, dark red wine derived from one of the world's most popular grapes. The flavor of Merlot is said to give hints of black cherries, licorice, plums and chocolate. This French grape reached American shores in the mid-19th century and since then, the wine has become a top-three favorite.
Merlot is typically less sugary than a Cabernet Sauvignon, with which Merlot is often blended. Leaning toward the dry side, Merlot has also been classified a medium-flavored wine. If you're new to Merlot, you may enjoy pairing it with steak, fish, or pasta.
Malbec
Hugely popular in Argentina, Malbec is another French-derived dry, dark red that pairs well with lamb, game, and beef, as well as spicier fare like Thai or Indian. Its complex taste and aroma have been compared to earth, leather, tobacco and pepper. Typically of mid-level acidity and tannin, Malbec possesses a tangier and sharper flavor than Merlot.
The Whites
Chardonnay (White Burgundy)
White wines are more crisp due to their lower tannin and higher acidity. Chardonnay hails from the Burgundy region of France and the ability of its grape to adapt well to various regions has seen this wine become the most popular white in the world. Chardonnay is often associated with bright, citrusy flavors and is best enjoyed with mild foods such as baked poultry or fish, sweet potatoes, and other buttery vegetables.
Sémillon
Although not as commonly known as its peers Sauvignon Blanc or Pinot Gris, Sémillon merits a strong place on most wine lists due to its versatility, with dry and sweet varieties. Its taste has a zesty flavor comparable to apples, lemons, and pears when grown in cooler climates, and hints of mango, peach, and papaya when raised in warmer ones. If you're serving Sémillon as your table wine, couple it with light foods like seafood salads, crabs, and clams.
The Sparklers
Cava
Cava, officially Cava DO ("Denominación de Origen"), consists of three white grapes (Parellada, Xarel-lo, and Macabeu) which, when combined, lend this sparkling and fruity wine a typically floral aroma and a citrus-based taste. Cava also comes in aged (nuttier) Brut and Rosé varieties and can have more of an earthy taste than its glamorous cousin, champagne. It's a versatile wine that goes well with white meat, cheese, rice, and seafood.
Champagne
It had to make the list! Named after its region of origin in northeastern France, there's no other wine that has the public profile of champagne. It's the toast of winners and the marker of joyful occasions –and as such, is one of the most widely-consumed varieties on earth.
Described as floral, fruity, and spicy, the dryer Brut champagnes and the sweeter Secs offer the best of these flavors, with each benefiting from being well chilled before serving (the benefits being a boost to fizz and flavor). Lobster is a firm favorite to serve with champagne, as are other forms of seafood like oysters. Grilled chicken and egg dishes also pair well.
The Rosés
Syrah
The Syrah blend of this particular wine is darker than your typical rosé (which is usually pinkish in tone) and has sweet tones of strawberry, peach, and olive. You have plenty of options to team Syrah with food: It's enjoyable to drink with pork, light breaded meals or pasta, pizza, crispy prosciutto, salads, or shrimp.
Pink Moscato
A particularly fruity pink, Moscato conjures up images of orange, pomegranate, and cherry for its drinkers. It sits nicely beside spicy foods or zesty Chinese meals and salads. It's sweet enough by some to be classed as a dessert wine, but as we said: There's no accounting for taste. You can pair a pink with beef or a dark red with fish if it works for you!
The Desserts
Port
A traditional and highly-respected wine with a dash of brandy, Port is a firm favorite whose hybrid recipe lends it a heavier, sweeter, and richer taste than many wines. It's also very versatile when paired with food. Commonly served towards the end of a meal (hence the term "dessert wine") with items like cheese, cakes, chocolate or biscuits, port can also precede a meal as an aperitif or be served along with the main course. If you choose the latter, try combining Port with a white meat salad.
Sherry
Sherry is a delicate wine, drier in texture than Port and with a lower alcohol content. Like port, it should be stored at lower temperatures. Also like port, it adapts well beside any meal. Whether you choose white meats, fish, salads, or light seafood with complements of nuts, rice, or mushrooms, there will be a sherry that suits your purpose. If you can't have another bite, then sherry, port, or brandy go famously with after-dinner cigars.
At Orange Coast Winery, we believe a blend of science and art can make the good life even better. With precision and passion, we select the finest grapes from our own vineyards located throughout the Temecula Valley and the Lodi area of Northern California. You can email us at info@orangecoastwinery.com for more information, or simply call 949-645-0400 to get in touch.